Sat, 07/20/2013 - 20:57
Royal bébé watch is ON
It's the most famous baby in the world – and it's not even been born yet...
France 24 has joined the Great Kate Wait! Yes, France is a proud republic, but we're talking about the newest heir to the most prestigious throne around, the latest great-grandchild of Queen Elizabeth II of the United Kingdom (and lots of Commonwealth countries… more on that in a later blog perhaps).
Which is why I've spent the last three days hanging out in a London side street, with Prince William and Kate Middleton on my mind.
Right now, the main things you need to know about the royal birth are:
1. None of us knows the exact due date
The palace isn't going to reveal anything as personal as when Kate is meant to go into labour, so we've been told the birth is expected "in July"
This is why some journalists have been here since the end of June, just in case. The US networks were among the first, and Sky News's jovial Royal Correspondent Paul Harrison is top domestic veteran, entertaining us with his cheeriness and colourful trousers. There is also a sizeable French contingent from the domestic TV stations, as well as plenty of other international news outlets, and a definite camaraderie, which is nice. Clearly when there's not much to say, our innate journalistic competitive streak takes a back seat.
2. Everything that you could reasonably say about this birth has already been said
This means that the crews here are scratching around for stories and new angles on "it's still not here", and we are lapping up daily PR stunts. Yesterday Britain's The Sun tabloid newspaper sent lookalikes of Wills and Kate to the door of the Lindo Wing where Kate will (probably) eventually give birth. Once the media were suitably fooled and in place with cameras and mad anticipation, they opened their coats to reveal the paper's logo. Nice front page for Saturday's paper, Sun.
The Lindo Wing - or rather Limbo Wing
You may have seen the pictures on France 24's news bulletins and in your newspapers of this funny little street near Paddington station. It's a regular public road, and a major access point to a real, working NHS hospital, St. Mary's. Kate is due to give birth inside the private Lindo Wing. The precise part of the facility that interests the media is the entrance, and the steps down to the street from it.
With the due date not known, the media has christened this spot "The Limbo Wing".
This is the exact same spot where the world got its first look at the newborn Prince William almost exactly 31 years ago. As Prince Charles emerged with his baby son in his arms and Princess Diana by his side, there were just two TV cameras and a bunch of press photographers there to capture the moment.
Making your own entertainment
Nowadays things are certainly rather different. And there are definitely more than the two TV cameras of 1982.
At least twenty cameras and camera crews are around at any one time – the AP agency has a whole row, right at the front, ready for us reporters to do our live stand-ups. There are also dozens of stepladders standing ready for the paparazzi. Some wag has added little labels to them: "post-partum ladder sale", "£6.50" "one careful owner". You have to make your own entertainment, like your mum says.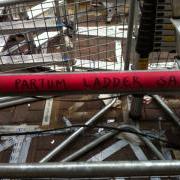 In-between and all around, little rectangles of pavement are taped off by different TV crews, so close together it'll probably be like riding the Tokyo subway by the time we're all in place to announce the birth. Mmm, clammy.
Making little cameo appearances on the sidelines are hospital staff, patients and police, reminding us of real life carrying on around us. And on the other end of the scale, the royal fans, proudly wearing and sticking up their union flags, and generally very very excited about the next addition to the royal family.
Dedicated or dotty?
Margaret Tyler, from Wembley, tells me she's met the queen four times, and admits "they might recognise me". She's an avid collector of royal memorabilia, gets a lot of attention from the US TV networks. She's been coming to the hospital every day for just over a week now, spending hours here waiting for news, proudly wearing her red, white and blue ensemble. Yet Margaret is positively subdued in her ardour for Queenie et al compared to some of the others joining her on the sidelines.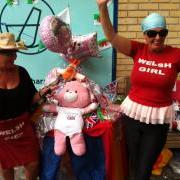 While Margaret commutes in every day, others are camping out on the visitor benches behind the media pens. Apparently it gets a bit chilly around 4am... but once a spot is claimed, it's not let go of easily.
On Saturday 20th, Annie and Jannie from Barry Island in South Wales spent much of the day decorating a little children's tent that they've put up almost directly opposite the Lindo Wing entrance. The ladies keep me busy with a lively chat about royal secrets and rumours of what happens to people who criticise the Windsors - and the tent ends up a riot of half-deflated new baby balloons, Welsh flag bunting, teddy bears and eccentricity.
Boy or girl? Cancer or Leo? Bothered or not?

We also have bookmakers making regular visits to display the odds on the baby's sex, name, star sign, etc – and drum up some gambling business in the process.
Also looking to grab some limelight is the head of a French baby website who has been here for a couple of days with a bunch of rather sweet baby toys, all from France. He's hoping to give them to the royal couple when they arrive, to promote the small French businesses that make them. Apparently ten thousand people voted on the gift they wanted to give to the royal babe – number one is a soft toy music box, with French classic Sophie La Girafe trailing in second place by just fifty votes.
And then there are the definitively non-news related marketing opportunities, like the company that sent free doughnuts round the other day. I'm sure they were yummy and all, but you won't get a mention on air, sorry.
So that's where we are for now! I did manage to nip off around central London with our local reporters Alix Bayle and Yong Chim on Thursday and Friday to shoot a little report on a purported tourism boost during Baby Fever. But I think for now – barring breaking news – I'm pretty much a permanent resident of our little side street.

See you when the baby arrives!
Tags for all blogs :
Comments or opinions expressed on this blog are those of the individual contributors only, and do not necessarily represent the views of FRANCE 24. The content on this blog is provided on an "as-is" basis. FRANCE 24 is not liable for any damages whatsoever arising out of the content or use of this blog.