Mon, 05/13/2013 - 17:35
Operation: Cannes
It's the biggest cultural event in France and probably the world's most prestigious film festival. Cannes is the big red glowing dot on the Culture team's calendar each year, and tomorrow morning we will assemble at the airport bright eyed and full of multivitamins, ready for our annual date with the biggest, hottest, most sought-after (etc.) film stars on the planet.
It's a dream gig, and we all love taking part, but the preparation is a little akin to preparing for a huge trek across some inhospitable land. What to put in the daily show? Which stars, and which events, to show off the incredible atmosphere that is Cannes for two week. What to wear? The weather on the Med in May can be as changeable as a starlet's mood swings, so cagoules and trainers as well as long frocks and heels get squeezed into the suitcase. How much kit to take? We want to be everywhere and film everything, but can we actually carry it all down there – and will Air France let us?

Whatever the discomforts and longs days, we all know it's still a far cry from the tough conditions of many France 24 'missions' as we call them. And it's an even further cry from so much of the news we cover every day, so nobody ever complains for very long about the hem of their evening gown being soaked in rain/seawater/champagne.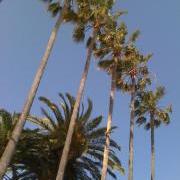 This year we have plenty of treats to look forward to bringing you: Steven Spielberg is president of the jury, which is very exciting for any 1970s or '80s kid who grew up with him defining their idea of a blockbuster: Jaws, ET, Jurassic Park and so very many more. Personally I can't wait to find out which of the competition films he gives the golden nod to when it comes to picking out the Palmes at the end of the festival.
His presence is accompanied by some crazy Hollywood rumours: word on the croisette is that he'll be living on his own private yacht anchored in the bay, watching the competition films in his own private cinema, far away from the France 24 team and the rest of the hoi polloi. Well hark at him! Though considering the crowds he can't be blamed.

Elsewhere on the jury we have an amazing array of talent including one of my personal favourite filmmakers, the genre-defying Ang Lee – there's also Nicole Kidman who will bring glamour and incredible dresses, Vidya Balan with the glitz of Bollywood, and Lynne Ramsay adding some English eccentricity and authenticity.

See the official jury announcement here: http://www.festival-cannes.com/en/article/59685.html

Opening movie The Great Gatsby is already the talk of every film-loving town, with its archetypal Baz Luhrmann swagger, heavyweight cast including Leonardo Dicaprio, pumping soundtrack by Jay-Z, and 3D-futuristicness. That is totally a word.
Official Great Gatsby movie website here: http://thegreatgatsby.warnerbros.com/

Over on the "Un Certain Regard" sidebar competition, Sofia Coppolla's latest feature "The Bling Ring" promises steamy, subversive thrills courtesy of the girl who has so quickly shed her "Harry Potter" skin: Emma Watson. Based on true events, it follows a gang of young Hollywood-dwellers who burgle the mansions of the likes of Paris Hilton. It's brash and flash and Culture Ed. Eve Jackson, who's seen the preview, recommends it.
Bling Ring Trailer:
Other stars to keep your eyes out for include Ryan Gosling, in the latest film from "Drive" director Nicolas Winding Refn. It's called "Only God Forgives", it's set in Bangkok and promises to be an ultra-violent thriller.

Lady of the festival could well be Carey Mulligan – not only does she co-star in "The Great Gatsby", but she'll also be back on the red carpet with the Coen Brothers for "Inside Llewyn Davis". The name doesn't sound particularly tasty but the synopsis is more tempting: a period piece set in New York in 1961, in the heart of the city's folk-rock scene. Oh, and Justin Timberlake's in it. Did I forget that bit?

So there you go – it promises thrills (the films) spills (champagne?) and plenty of surprises. I hope you'll join us for the ride. And please send Vitamin C tablets, we're going to need them.
Tags for all blogs :
Comments or opinions expressed on this blog are those of the individual contributors only, and do not necessarily represent the views of FRANCE 24. The content on this blog is provided on an "as-is" basis. FRANCE 24 is not liable for any damages whatsoever arising out of the content or use of this blog.